It started with every boat arriving for the Friday night Meet & Greet getting a free Bella Vita Lifeguard T-Shirt like this!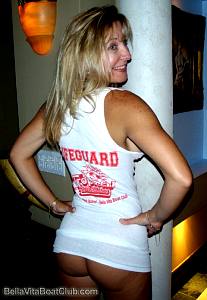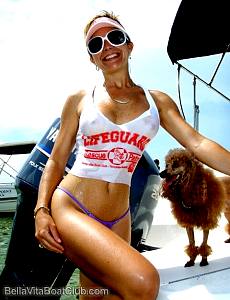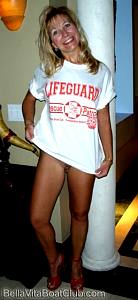 "Thank YOU" to all of you Hot & SeXXXy Bella Vita Babes for an Incredible Weekend.


I want to say "Thank You"

to my guests this weekend, Hot4Jamaica, ClubEaster, SwissCouple, GolferGuy, & NiceGuyEddie

for all of your help & all of your assistance this weekend

. It was so nice to spend the weekend with all of YOU!!!

BellaVitaBoy

and I both enjoyed ya'll so much being onboard the "Barbie Girl" and hope that you can join us again real soon.

We couldn't have asked for better weather! The temps were in the low 90s, sexy naked bodies everywhere, in the water, sunning their buns, and dancing the weekend away. I think the short rain showers we had were sent to "cool off" all the HOT BellaVita Boat Club Members!!! Time to bring out all the floats and join in the SeXXXy Fun in & on the water with all your BellaVita Boat Club Friends.

BellaVitaBoy REALLY put his DJ sound system to the test this weekend,

. His music pushed it to the limit, the "Barbie Girl's" Bar filled with the SeXXXy & Hot Bella Vita Babes and the weekend was in full "SWING"

T
he Bella Vita Babes were on FIRE!!!!


We had a VERY Special Birthday Boy

"Patrice"

Who was so surrounded by ALL the SeXXXy Bella Vita Babes, that had to "take a number" to give him VERY SeXXXy B'day wishes .
Happy Birthday Patrice!!!

"THANK YOU"

to all of you for all of the trays & treats brought out all weekend.
I could not keep up with who brought what, the food just kept "appearing" and its all of your generousity that makes the Bella Vita Boat Club Regattas what they are.
Thank you

BaldBrunette

for my now favorite homemade cookies. WOW sooo "sweet"
Thank you

BNaked4 for the thirst quenching watermelon AND for sharing your ice with me.
Thank you Colleen

for making us our FAVORITE chicken enchiladas dinner on Sunday!!! A Super ending to a great weekend!!!
Thank you

ILikeWives for applying all the FUN & SeXXXy Tatoos,

www.TataToos.com

, AND for printing out & bringing a stack of extra Liability Waivers.
Thank you

Jim&Amanda

for the delicious & lovely trays you made & shared with all of us.
Thank you

Lovers1

for the Vodka soaked watermellon AND the pound cake & Mimosas on Sunday morning. What a TREAT!
Thank you

MagicFingers

for ALL the massages given this weekend AND for helping with rafting of the boats & retrieving lines from Temptation Island on Mondary morning.
Thank you
MagicMike
for providing shuttle service out to Temptation Island.
Thank you
Mermaid
Bill for ALL the help of rafting up the boats and keeping an eye on the lines throughout the weekend.
Thank you

Misty

for the nice variety of lox & bagels on Sunday morning AND the delicious filet dinner on Sunday evening. Generous & Delicious!!!
Thank you

NautiHobby

for sharing your wonderful Margaritta Machine with all of us, being so generous with an open bar of alcohols to mix up drinks to order!
Thank you
NiceGuyEddie
for my Yummy Krispy Kreme doughnuts. My Favorite!
Thank you

Olvidelo for making breakfast for all of us on Friday morning PLUS your delicious cerviche on Saturday.
Thank you SeaLife842

for making "Brunch" for everyone on Friday, surprising me with "Shucker's" wings on Saturday AND for making "ice runs". WOW you were busy!!!
Thank you

SoulMates6

for ALL your delicious & beautiful trays brought out over the weekend.
Thank you

Spidie3463

for the appetizier trays on Saturday AND for giving my guest a ride to shore & then to the airport on Sunday.

Much appreciated!!!

My Captain's

"Gold Star Award"

goes to
BaldBrunette
!!!

A Big "THANK YOU", for arriving with waivers printed, filled out correctly & completely with donations in a labeled envelope and stapled to the waivers... WOW. This was a GREAT way to say "HELLO" when you rafted up.


Also, since the Bella Vita Boat Club is a non-profit club that is ONLY able to operate solely by the generous donations and contributions of its thoughtful members, we are always so appreciative of everyone that donates so generously. An EXTRA Special

"Thank You"

goes to
BaldBrunette, BlueJob, ILikeWives, IrieMon, Olvidelo,

and

SoulMates6 who went above and beyond by donating more than the suggested amount this month. And a VERY Special

"Thank You"

to ClubEaster

and

Misty who made a VERY SUPER-DUPER Generous donation of $100.00 or more to help support the club!!


Thank you EVERYONE! Your generosity is GREATLY Appreciated!
What a PERFECT way to spend a Summer Weekend!!!
Seeing old friends and making so many new ones!!!

We hope to see all our new Bella Vita friends again next month so, be sure to make your postings now to register to attend. Remember that the sooner you post, the more other people post and the bigger the party will be!


And never forget....
Rain or shine, it's party time"!
To those of you that attended this month's party, please help spread the word by taking a few minutes to tell others what you thought of the weekend, click here:

http://www.bellavitaboatclub.com/forums/index.php?showforum=4

. It's postings like yours that help let "nervous newbies" get comfortable to come join us. We'd love to see your review and what you have to say!
And while you're here, don't forget to register to come to next month's party by clicking here: http://www.bellavitaboatclub.com/forums/index.php?showforum=6 and making a thoughtful posting!
So don't wait baby!!! DO IT NOW!!!
To see what everyone has to say about this party and all our past parties, click here: http://www.bellavitaboatclub.com/forums/index.php?showforum=4
Thank you everyone for making these monthly parties the highlight of our month. We've made such wonderful friends at these parties and thank all of you for helping to make these parties the huge success that they are.

Spread the word! Tell all your friends! Tell them to get registered, Get posted, And GET NAKED at our next party as they keep getting bigger and bigger every month!!!
Thank you EVERYONE! Your generosity is GREATLY Appreciated!