Why I Love
My Rocna Anchor...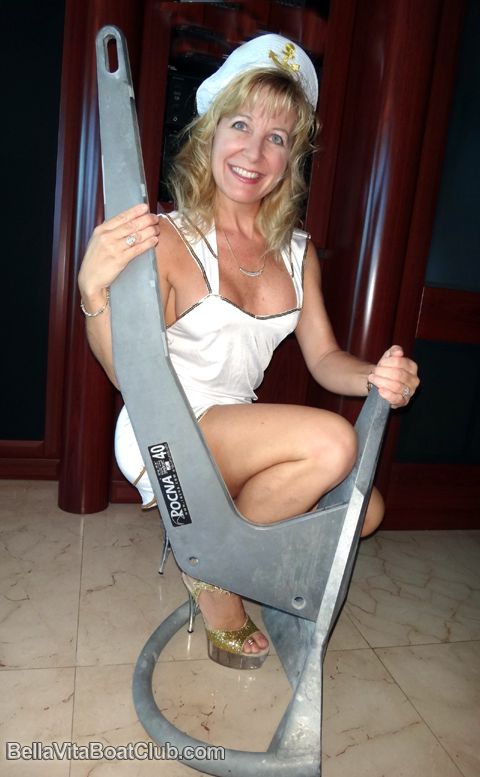 Why I Love
My Rocna Anchor...
The question we get asked about our raft-up parties, isn't about nudity, or sex or orgies or anything... Probably the number one question we get asked is:
"What kind of anchor do you use to hold your boat with tons of other boats tied up to you?"
After owning many boats and hosting my giant raft-up regatta parties every month for 9 years, and boating all weekends in between those parties, I can safely say that Rocna Anchors are the absolute best anchor.
And "NO" they are not paying me to say this. I'm saying it because it's the truth! Here is what we learned over all these years.
Until I got my Rocna, we had to carry 3 different anchors
with us so we could anchor safely in and ocean bottom conditions. But with Rocna, just one anchor secures us no matter what the ocean floor is like!
What's The Difference Between Anchors:
My Delta Anchor, which is the "plow" design is good for sand and is pretty good for sand with a hard crust over it, and sometimes it would bite in grass but I couldn't count on it to do that all the time, and if it landed upside down, then forget it, your boat would drag it to China before it ever bit into anything. And if you anchor in mud or muck then the anchor will do exactly as its name implies... it will "plow" a trench as your boat drags it along.
My Claw Anchor, which is the "Bruce" design is GREAT for anchoring in mud and muck, but no good at all for sand with a hard crust or any areas with grass because it's dull fat digging area can't penetrate into anything hard, and only held fairly well in sand as long as the sand wasn't hard.
My Fortress Anchor, which is the "Danforth" design is GREAT for soft sand, and it's aluminum construction makes it light weight, but I don't need my anchor to be light weight. And sometimes mud or rocks would get wedged between the tines and hold them up so then could never dig down into the sand or mud. And if you're anchoring down in the Florida Keys where there is a crust over the sand or grass, then you can expect to break loose and drag anchor like we did several times, including the middle of the night.
My Rocna Anchor, which is sometimes called the "Scoop" design is great for every ocean bottom condition we've found. It's got all the benefits of all the anchors, plus some extra ones. For Example:

It has a sharp point like the Delta, but the Rocna point is a much sharper chisel point to penetrate the crust or grass so it can dig into the bottom below it.
It's got a scoop design reminiscent of the claw anchor so it won't plow a long trench in soft mud like a Delta does, but instead will scoop into it and dig deep. REAL Deep!
It doesn't have moving tines like the Danforth design, so rocks and mud can't block the tines from swiveling down to dig into the bottom.
And the Rocna Anchor has something that none of the above anchors have... a Roll-Bar so no matter how your anchor lands on the ocean floor, it will automatically roll over to point the sharp chisel into the floor so it can really dig in.
That's why I love my Rocna Anchor. They ain't cheap, but they have the best features and advantages of all anchors combined and none of their disadvantages, and then on top of that, it even has extra features that NONE of those above have.

So whether I've got 56 boats rafted to me like I did at my July 2011 birthday party raft-up, or if I'm just anchored out by myself and want to be sure I can sleep soundly without concern that I won't wake up in the same place, I put all my trust, faith and confidence in www.Rocna.com
So now you know why I have such a love affair with my Rocna Anchor!
And if you want to see the full photo shoot that Bella Vita Boy took of me with this anchor, then go to:
www.bellavitaboatclub.com/photos/products/anchors/rocnaanchorbarbi0712.htm